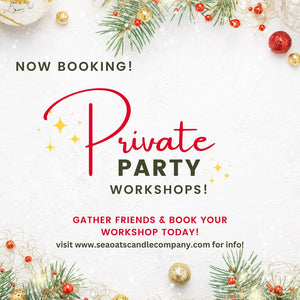 Sea Oats Candle Company
HOLIDAY PRIVATE PARTY WORKSHOPS!
OH, what fun we had! Many of you booked private parties last season... This year, we're making it even easier. Send this link to your friends and book your party online.
We've opened 4 dates. One private party per date... Your group will take over our studio and enjoy the space as your own! We'll see your group there.
Dates:
Thursday, OCT 13th at 6:00p:: SOLD OUT
Friday, OCT 28th at 6:00p:: SOLD OUT
Sunday, NOV 13th at 12:00p:: SOLD OUT
Saturday, DEC 10th at 10:00a: SOLD OUT
How it Works:
1.   *The organizer of your group purchases the party date from the drop down menu above* This reserves your party and now participants can sign up.
2.   Participants simply select the "Candle Type" (dough bowl candle, small tree candle, or large tree candle) from the drop down bar and make their purchase. You'll choose the scent at the workshop.
The party organizer attends the workshop for free when 10 or more participants sign up. We will contact the party organizer via email or cell to confirm details, answer any questions, etc.
Good to Know Info:
Minimum of 6 participants.
Feel free to bring your own snacks & beverages of choice!
Workshops typically last an hour.
You'll receive a coupon to shop the Sea Oats Cottage!
CANDLE REFILL KITS AVAILABLE AT THE WORKSHOP!
---
More from this collection