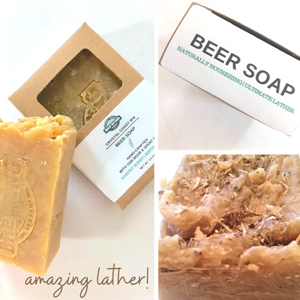 Sea Oats Candle Company
Super Lathering Beer Soap
BACK in STOCK! Thank you for your fabulous support of our beer soap!
There's never been a better excuse for getting dirty! Our beer soap is hand-crafted 12 bars at a time, with the purest ingredients for a superior lather that leaves your hands and body moisturized, invigorated, and clean. And the scent? It's citrusy and earthy in a fresh, clean way that's *almost* good enough to eat. And before you ask: No, you won't smell like a late night at a sticky-floored bar. This beer soap is sprinkled with roasted spent grain for a very slight exfoliation experience.
Try this beer soap (made with IPA from Crystal Coast Brewing Company) and enjoy a bathing experience second to none! 4.5 oz. bar.
Ingredients:
Extra Virgin Olive Oil, Organic Refined Coconut Oil, Crystal Coast IPA, Lye.
Aromatic Description: 
Citrus, earthy, nutty  
---
More from this collection