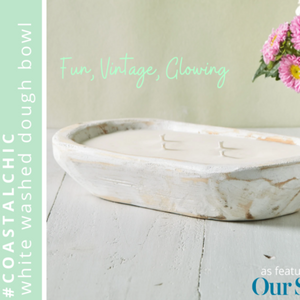 Sea Oats Candle Company
Dough Bowl Candle Vintage White Washed: Pre Order Now! Back in Stock Sept. 24th
Thank you for understanding that our white washed dough bowls are seasonal offerings... in limited quantities. They often sell out quickly. Pre Order Now and claim yours!
Hello, gorgeous! This multi-wick dough bowl candle is getting rave reviews! Finished with a coastal vintage white-wash, it's offered in several of our most popular scents. 

Extend the value of your dough bowl by purchasing a Dough Bowl Candle Refill Kit! Easy. Fast. Affordable. We took care of the mixing and measuring, you have the fun!
Our bowls are handcrafted, and vary in shape and size (no cookie-cutter manufacturing, these are made by hand). Average size is 9"‐10" L X 6"‐7" W X 2"‐ 2.5" deep. Filled with approximately 13 ounces of wax.
Candle burns all wonderfully, with little to no waste. Wipe with warm, soapy water and re-purpose!  *Also offered in Natural Finish. 
---
More from this collection